Victoria to spend $5m in Australia's first social enterprise strategy
New social procurement plan will encourage government contracts to support social enterprises, as sector expands to more than 20,000 businesses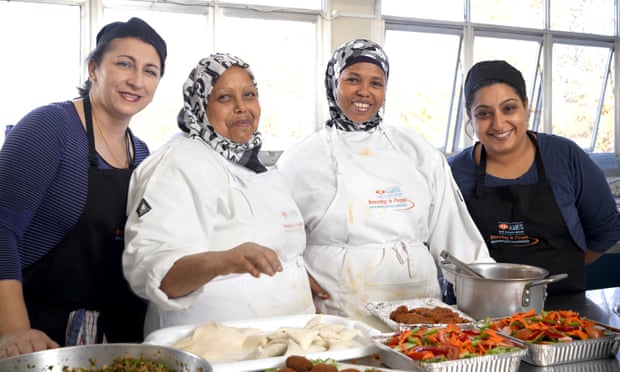 The Victorian government is committing $5m to help develop the social enterprise sector – which is made up of businesses that exist to fund social projects.
Victoria is a centre of social enterprise, home to a quarter of the country's 20,000 social enterprises, such as the Thankyou Group (bottled water and other grocery items), STREAT (homelessness and unemployment) and Green Collect (recycling).
Social enterprises act as an alternative to using government funding or charities to deal with social problems. Instead, they provide goods or services with the intention of being profit-making businesses.
Those profits are then directed towards issues such as unemployment, the environment, disability, poverty, homelessness, integration of new immigrants and other areas of disadvantage.
The minister for industry and employment, Wade Noonan, says a key part of the new strategy is to use the state government's purchasing power to benefit the sector. A new social procurement framework will allow government contracts to buy from social enterprises.
This already happens to some extent but in a piecemeal way: the Level Crossing Removal Authority, for example, requests that all tenders include a "social procurement plan".
As such, the project to remove two level crossings at Bayswater has sourced its 90,000 plants for landscaping from Yarra View Nursery, which employs 100 people (a high proportion of whom have a disability).
"In many respects, that will act as a model for further work that we can do as a government," Noonan says.
As a result of Yarra View Nursery's work at Bayswater, other level-crossing removal projects and the $5.5bn Western Distributor river crossing project will have social procurement plans.
The Victorian government allocated $2.4bn in its 2015-16 budget to remove at least 20 dangerous level crossings by 2018.
"Beyond that, part of the [new] strategy is to develop a whole-of-government social procurement framework in relation to government projects," Noonan says. "We want to embed this as part of our procurement activities."
The state government will spend its $5m allocation (from the $53m Jobs Victoria Employment Network) on eight key initiatives including: establishing a new social enterprise network across Victoria to better connect the sector; building an online market to connect buyers with social enterprises; and offering training opportunities and support for more than 100 social enterprises to expand their business.
Noonan says government assistance will help raise the profile of social businesses, which are generally small in size, employing fewer than 200 people each. "They are not large and they don't have a depth of resources that other businesses might have."
"[Social enterprises] are quite happy to compete on price but where they would look for government to provide a level of support is assisting in the networking, in building capacity and providing training."
Noonan says while the federal government and other states and territories have had grants and funds to encourage social enterprises, Victoria is the first to offer a comprehensive strategy. "[Before this] there has been…….
https://www.theguardian.com/sustainable-business/2017/feb/16/victoria-to-spend-5m-in-australias-first-social-enterprise-strategy